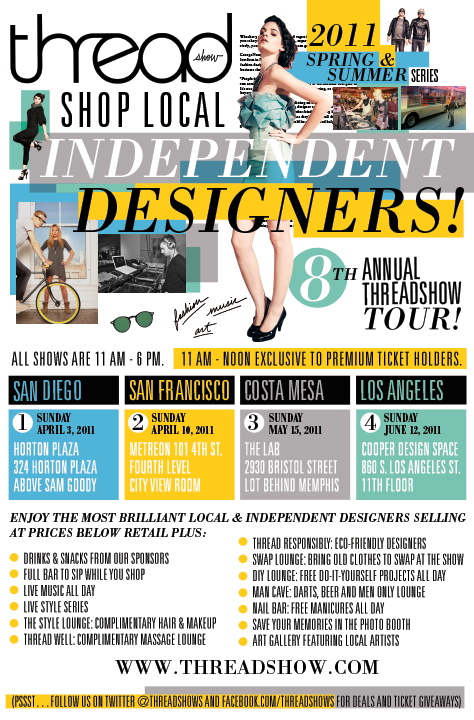 OKAY so this is my first giveaway! I get to give away 3 sets of passes to the
LOS ANGELES THREAD SHOW
. So if you're one of the winners you get two passes (for you and a friend)! woo hoo!
Let me tell you a little about this awesome event.
There is a DIY Lounge for all you crafty folk
A Pop-Up Nail Bar for those of us who are in need of a manicure
A Live Blogger Style-Off Series
A THREAD Wellness Lounge for some R&R
A Man Cave for the gents and wolves
Photo booths for all the narcissistic kiddies out there
Live DJs to get your groove on (there may or may not be some breakdancing as well)
Nifty giveaways (as if mine isn't enough come on now)
And last but not least a style lounge. I'm not entirely sure what that entails but it sounds pretty awesome and suave to me.
Whoever wins will get to go to this awesome show and gets to hang out with Bobby, Peter, Maddison and myself. (well i mean you don't HAVE to.. but it would make us really happy)
So NOW. This is how you can win.
1. Follow my blog
2. Comment on this post with your name, email and a funny little note to me
3. Make sure you can actually attend the show.. (its in Los Angeles, California on June 12th)
I'll write down all your names and put them in a hat and email the lucky winners!
The contest closes on June 5th! So get your entries in ASAP!
Now really, who doesn't wanna join the: